0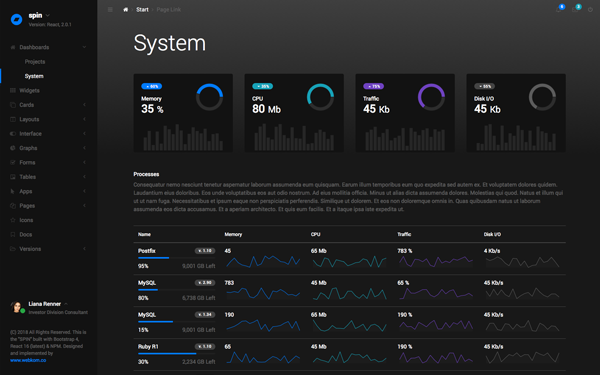 SPIN Admin/Dashboard Theme with a minimalist design and innovative Dark UI will let you build an amazing and powerful application with great UI. Perfectly designed for large scale applications, with detailed step by step documentation.
It is built based on the latest standards and recommendations. It is powered by Bootstrap framework 3+, which is currently one of the most popular framework in the world.
Package
SPIN Admin/Dashboard Theme has 
5 versions
. Descriptions of each can be found below:
HTML/CSS/JS - it is great for programming languages such as PHP, Ruby and others. Gulp Version.
ReactJS - Provides a set of flexible React Components which will add great functionality for your App. Many examples included. - http://spin.webkom.co/react
Starter Dev. - this is a clean Starter version of Spin Dashboard. This base project can be quickly attached to any web application based on HTML/CSS/JS, or to start a new project. Suits well for technologies such as PHP / Java EE / Ruby on Rails / Django / ASP.NET / Meteor etc.
Photoshop Files - more than 30 views in ".psd" fully built on layers which will allow you to quickly make changes / adjustments / add features and also build new views or layouts. Available in a package.
SCSS Styles - styling of the app is enhanced by the .scss language, which makes maintenance clean and painless.
Features
SPIN Admin/Dashboard Theme
has a huge collection of components that can be used in a great number of combinations and variations. It can be used in all types of custom web applications such as 
CRMs
, 
CMSs
, 
Admin Panels
, 
Admin Dashboards
, etc.
More than 20+ Layout Variations - a multitude of possibilities to rearrange the layout, allows to customize the look of your application just as you imagined.
10 Available Sidebars - such as Slim, Big Icons, with Avatar, with Charts and Progressbars simplifies navigation for each user.
Applications - applications ready, allows you to save time and focus on project development.
UI Components - we offer you a large number of UI components; fully ready for changes that will customize them for your needs.
Responsive Design - fully adapted to your application, exactly well presented on the desktop, a tablet or smartphone.
More than 120+ Unique Pages designed to make use of them directly in your application.
---
Statistics for this Theme
10 Various Sidebars
Over 20+ Layout variations
11 Dashboards
Over 30+ Apps
120+ Pages
30+ UI views for Photoshop
Fully Responsive Application
Preprocessor SCSS
5 Charts Libraries
Next Versions
MVC5
Angular
Meteor
Sketch Files
Credits JQuery Version
Credits ReactJS
In the middle of the documentation.
Support
We keep working hard on it, releasing new versions in short production cycles. If you have any questions, please do not hesitate and just write to us: tomasz.owczarczyk@me.com